Music PEI launched the new Producer Mentorship Program in September 2021, providing a deep dive into learning how to become a Music Producer.
Music PEI is proud to launch the Producer Mentorship Program with Mentor, Canadian Producer Howard Redekopp.
The Producer Mentorship Program was created to assist both established and emerging producers to gain knowledge and learn from one of Canada's most successful music producers. This 6 week program will include two 90 minute sessions per week and cover areas both theoretical and technical, including critiques of participant's projects, a breakdown of two select Howard Redekopp projects, and sessions with guest speakers.
The technical topics will include raising the quality of your work to be on par with what you consider to be "great," learning to create the right sonic place for every instrument to sit in a song, and capturing emotive vocal performances, along with a host of other subjects.
The theoretical or non-technical discussion will cover topics like breaking through the challenge of landing more fulfilling gigs without having a super recognizable track record, the tools needed to become your own cheerleader and advocate as you put yourself out there, finding your own unique strengths, and creating opportunities to learn from experts in the field. All important areas in advancing careers.
If you are committed to taking your producing career to the next level, this is a great opportunity.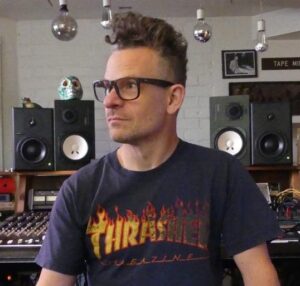 Music PEI is proud to launch the Producer Mentorship Program with Mentor, Canadian Producer Howard Redekopp.
Growing up in Southern Africa, Howard spent a lot of time hanging out in his dad's recording studio listening to the sounds of village choirs being recorded for the radio. That early introduction to the technical side of music sealed his fate. As a teenager back home in Canada, he played in his share of garage bands but knew he really wanted to be on the other side of the mixing board.
Howard went on to play bass in the '90s with Canadian indie band Veal, but almost immediately began making his real mark as a producer, engineer, and mixer. Best known for his production and mix work with Tegan and Sara, Mother Mother and The New Pornographers, Howard also shaped the sound of artists such as Now, Now; An Horse; La Gusana Ciega; Hannah Georgas; The Zolas; and PEI's Paper Lions. Howard has been at the helm of Grammy-nominated records (Tegan and Sara, Margaret Cho, La Gusana Ciega) as well as Juno award winners (Nathan).
Participant Requirements:
Potential participants need to have previous experience producing and the aptitude required to run their own recording session and navigate their digital workstation fluidly enough to share with Howard and the group.

Participants should have a production or mix in progress to present for an input session where Howard will address their areas of desired improvement and offer his perspective on how to make the production/mix really come to life. These sessions will be attended by all participants, and critique and encouragement will benefit everyone, regardless of whose production is being reviewed.

Participants will need to subscribe to

Audiomovers

in advance to share high-end audio of their submission and have the ability to zoom from the same host computer as their digital workstation for the session in which they are sharing their production. They can be using whatever production software they normally use be it Logic, ProTools, Cubase, etc.
Submitting Your Application:
This program is made possible by the support of FACTOR (through the support of Canada's private radio broadcasters and the Government of Canada), the Atlantic Canada Opportunities Agency (ACOA) and Innovation PEI.
Selected participants must be residents of PEI and members of Music PEI. Submissions will be accepted until September 10th, 2021.