Calling All 2SLGBTQIA+ / BIPOC emerging artists, aged 39 and under!
Music PEI and FilmPEI have partnered to create Diverse Voices. This program, entering its 3rd year, is designed to serve emerging musicians and filmmakers in the BIPOC and 2SLGBTQIA+ communities between the ages of 18 and 39. Three musicians will be selected from the applications and paired with 3 emerging filmmakers selected by FilmPEI.
Diverse Voices has a new mentor this year! We are thrilled to announce that Katrina Lopes of KL Management will be coming on board to lead the participants though the program.
About Katrina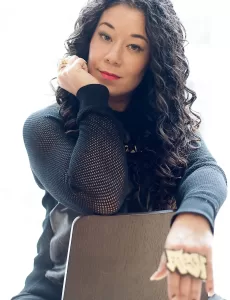 Katrina Lopes is the president of KL Management whose roster includes platinum selling, Juno Award winning artist/producer Shawn Desman, pop duo and production team RadioClub, soul artist/film composer/Sephora collaborator TiKA, and pop singer/songwriter/producer Kayla Diamond.
KL artists have toured with internationally renowned acts Backstreet Boys, Selena Gomez, opened for acts such as NAO, John Legend, Nas, SWV, Van Hunt and have performed alongside Sir Elton John, have been short listed in NPR's acclaimed Tiny Desk contest, as well as taken the stage at "We Day" stadiums across Canada.
Together with its clients KL Management has garnered numerous accolades including MMVA Video of the Year, Socan #1 Award, Socan Pop Song of the Year, as well as numerous platinum and gold certified singles.


The program will provide a prize valued at $7,500 per artist for 3 successful applicants, and includes:
professional recording studio time with a professional producer to record a new song

professional marketing package plus training and mentorship provided by Music PEI via Katrina Lopes

gear/crew and mentorship provided by FilmPEI for an EMERGING FILMMAKER to produce an accompanying music video
To be eligible you must be 39 and under (Music PEI requirement only, not FilmPEI), self-identify as 2SLGBTQIA+ and/or BIPOC, and be a resident of PEI. Successful applicants will be selected from the submissions by a diverse jury of industry professionals.
Submissions open Thursday, December 1st, 2022 and close on Monday, December 12th, 2022.
Emerging Musicians must apply before December 12th, 2022.
Music PEI would like to acknowledge that this program is made possible by the assistance and support of ACOA, FACTOR (through the Government of Canada and Canada's private radio broadcasters), and the Province of PEI's Innovation PEI.
Baha Royalty

Joce Reyome

Mini$helly
Diverse Voices Spotify Playlist: